2018
2018.08.16
FLB in-company exhibition for updated function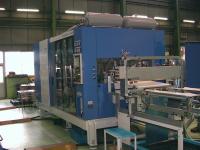 FLB type is developped for forming maker of producing various products in smaller amount each kind.
No need to replace cooling base, and cavity is fixed by vacuuming,
which drastically decrease mold changing time, resulting for improving production.
Moreover, FLB newly released its "Pressure forming function".
Compared to conventional FLB with only vacuum forming, this new function will decrease the cycle time,
and improve the product quality.
The visitors were very impressed by how the new function is effective to the production.

Movie is available on Youtube. Please feel free to access the below URL and get ideas of FLB.
Please be noted, and feel free to ask any question.
2018.01.24
Plastindia 2018
Plastindia 2018!
We will exhibit Plastindia2018.
Feb 7-12 2018
Gandhinagar, Ahmedabad, Gujarat, India
Hall 8 C50
http://plastindia2018.plastindia.org/
We look forward to seeing all of you!